Income Needed to Qualify for a Mortgage Loan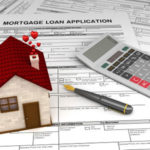 When you apply for a home loan, the mortgage lender will conduct a thorough review of your income situation. Income is one of the most important factors to a lender, along with your credit score and debt level. This article answers a common, income-related question that home buyers often ask: How much income is needed to qualify for a mortgage loan?
The first thing to know is that mortgage lending standards and requirements can vary from one lender to the next. For example, if I approach a handful of lenders about a certain home loan, and my income level is on the "border" of acceptability, one company might approve me for the loan while others turn me down. That's because they have their own business models and assessment procedures.
In addition, your household income level is only one piece of the mortgage qualification process. Lenders will review other things as well, including your credit score and your total amount of debt. Remember, your debt takes away a big part of your income — so the two things are usually reviewed together.
How Much Income to Qualify?
These days, most lenders set the bar somewhere around 43% to 45% for the total debt-to-income ratio, or DTI. This means that if your recurring monthly debts use up more than 45% of your monthly income, you might have trouble qualifying for a loan. On the other hand, a borrower who only uses about 35% of her income to cover the monthly debts should be in good shape, as far as lenders are concerned.
These numbers are not set in stone. Some lenders may allow total DTI ratios above 45%, especially when there are certain "compensating factors."
According to the Consumer Financial Protection Bureau (CFPB):
"Larger lenders may still make a mortgage loan if your debt-to-income ratio is more than 43 percent … But they will have to make a reasonable, good-faith effort, following the CFPB's rules, to determine that you have the ability to repay the loan."
So, where do you stand? What's your total debt-to-income ratio? You can find plenty of calculators online to help you calculate your DTI level. That's a good place to continue your research.
Applying for a Mortgage Quote
When you've done the necessary research, and feel that you're ready to take on a mortgage loan, the next logical step is to apply for quotes from lenders. The good news is that this process is easier than ever, thanks to the internet. You can apply online and get information sent to you by email.
Granted, you'll have to fill out a more complete application at some point, along with plenty of supporting documents (tax records, bank statements, etc.). But the initial online application is a good way to get the ball rolling.
Don't Overstretch Your Income
The last point I want to make is that a mortgage lender cannot tell you what you can afford. They can only tell you what they are willing to lend you, in terms of a loan. You must determine your own affordability limits, before you even start talking to lenders.
Doing some basic budget math up front could help you avoid financial issues down the road. So take a good, hard look at your current debt and income situation — and decide what you're comfortable paying each month in the form of a mortgage payment.
Once you have visited your preferred lender and have been pre-approved for your home loan, your RE/MAX In The Hills agent would be happy to take you on a tour of properties to find the perfect home that fits you and your family's needs.